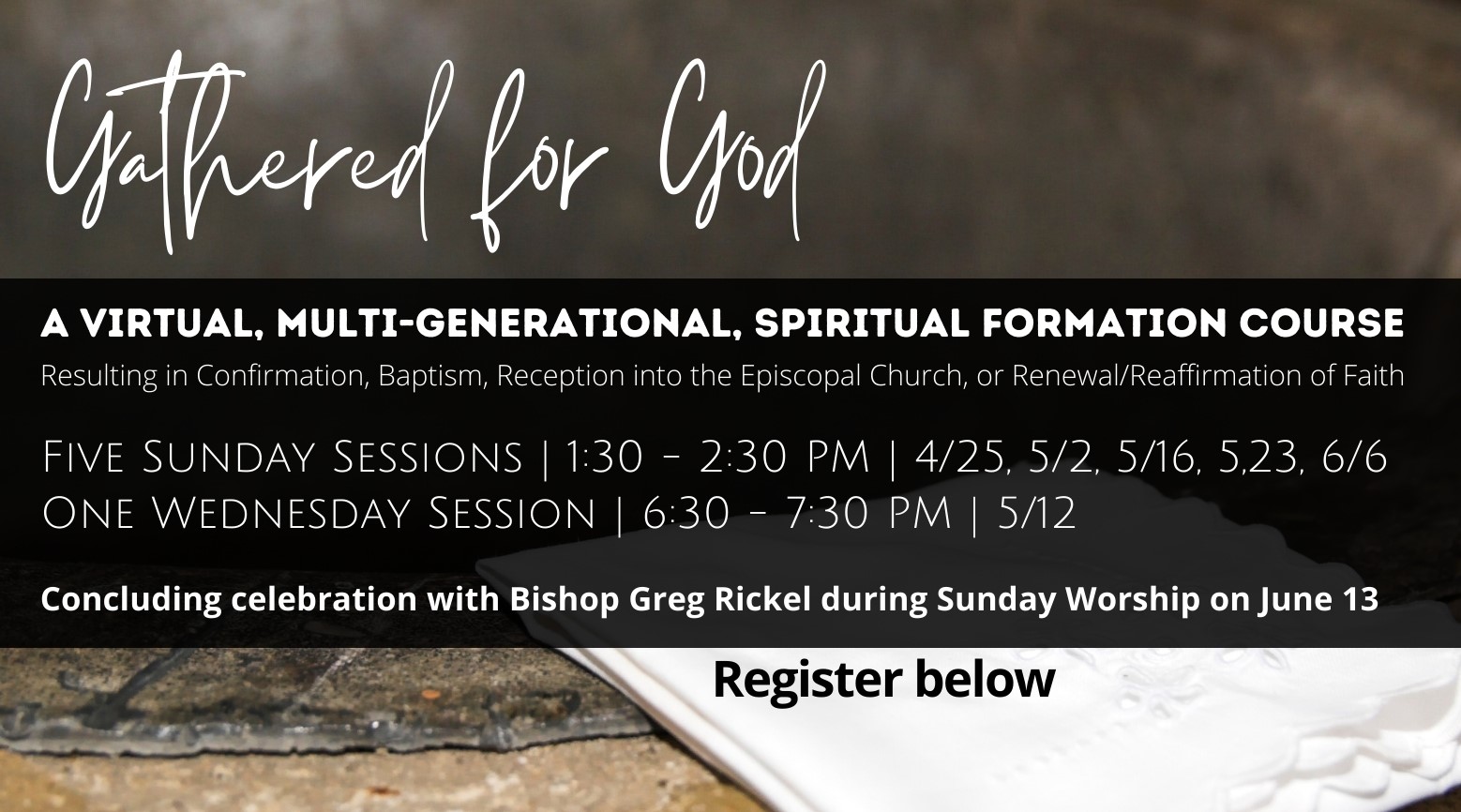 SPRING offering: gathered for god
Are you looking for a way to reconnect with your St. Thomas community and renew your faith in God? Make plans to participate in GATHERED FOR GOD, our new, multi-generational Spiritual Formation series which will be offered virtually via Zoom on Sunday afternoons* beginning on April 25th. In this six-part series we will explore the power within our faith community to find health and wholeness in the aftermath of a year of being isolated, challenged, and separated from each other. Together, we will discuss the many ways spiritual renewal occurs through the way we pray, worship, sing, serve and seek compassionate justice. This class is open to anyone 15 years or older and, if you choose, will lead to receiving the Sacrament of Holy Baptism, Confirmation, formal Reception to the Episcopal Church, or an opportunity to celebrate the Renewal or Reaffirmation of your faith in the presence of Bishop Greg during our Sunday Worship Service on Sunday June 13th. Advance registration is required.

*Gathered for God will meet virtually from 1:30 to 2:30 PM on the following Sundays: 4/25, 5/2, 5/16, 5/23, and 6/6. Instead of meeting on Sunday, 5/9 (Mother's Day,) we will offer one class in partnership with our Sacred Ground program on Wednesday 5/12 from 6:30 to 7:30 PM.
.
---
.
BAPTISM and CONFIRMATION
The ancient rites of baptism and confirmation carry deep meaning, and we celebrate them as a church community.
Baptism
In baptism, we are lovingly welcomed into God's family, the church. Baptism gives us a new identity and a new calling. This rite of initiation shapes the way we live and serve in the world. In a tradtiional liturgical year at St. Thomas we celebrate baptism during several worship services spread throughout the year. Both children and adults are baptized at St Thomas. If you would like to be baptized, or if you are parents who would like to have your child/ren baptized, you will be invited to participate in a baptismal preparation class where you can explore the meaning of baptism with St. Thomas clergy. If you would like more information about baptism, including the possibility of a private baptism during the COVID-19 closure, please contact the Rev. Steve Best.


Confirmation
Confirmation is a sacramental rite of passage that strengthens and deepens the life of the baptized. If baptism is the beginning of the Christian life in community, confirmation is a process of growing more deeply in faith and more closely into the community we call the Church. A confirmation formation program is offered every other year as a regular part of Youth Ministry at St. Thomas, and high school youth are invited to discern when confirmation is right for them. Adults who want to deepen their connection with The Episcopal Church are invited to consider Conformation, Reception, or Reaffirmation. Adults can participate in our intergenerational formation program, or work directly with St. Thomas clergy and staff to prepare for their selected committment. If you are interested in confirmation, reception, or reaffirmation, contact the church office at or (425) 454-9541.