WEDNESDAY WORSHIP
Posted to YouTube each Wednesday Afternoon

A Contemplative Service is recorded each Wednesday and posted to the St. Thomas YouTube Channel. Set aside 20 minutes to light a candle, breathe deeply, and connect with God. A reminder email is sent to the parish on Wednesday afternoon or click below to access the latest videos.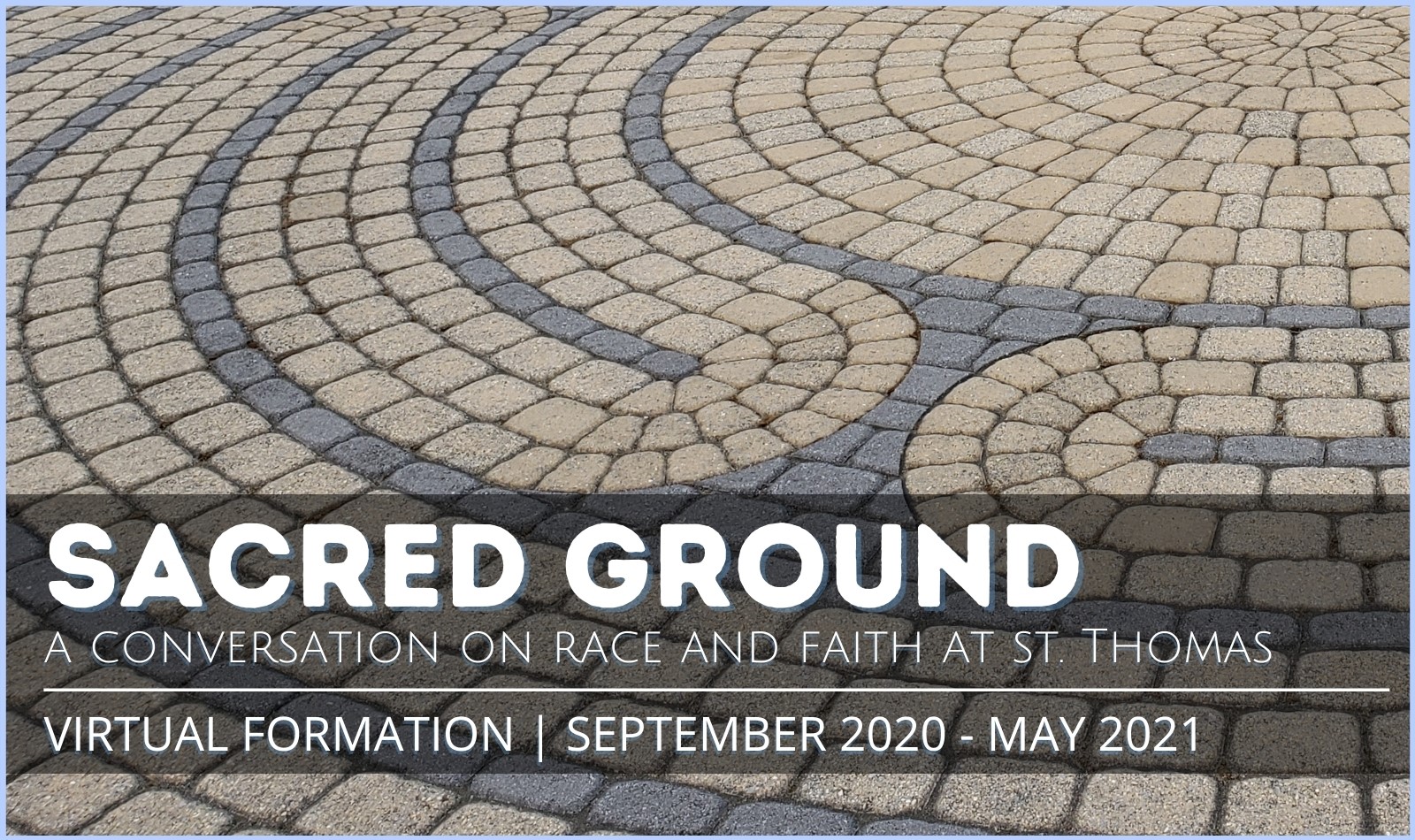 SACRED GROUND
A Conversation on Race & Faith at St. Thomas

Offered Online via Zoom on Wednesdays | 6:30 pm to 7:30 pm | October 2020 - May 2021
Registration for 2020-2021 is closed.
To express an interest in a future Sacred Ground series or similar program, send an email to .
Fall Term (7 weeks): October 7 - November 18
Advent Term (3 weeks): December 2 - December 16
Winter Term (5 weeks): January 13 - February 10
Lent Term (5 weeks): February 24 - March 24
Spring Term (6 weeks): April 14 - May 26
Sacred Ground at St. Thomas is a transformative virtual formation opportunity. The clergy, staff, and lay leadership of St. Thomas want to support our community in discovering how our shared Christian faith speaks to the issues of the day. One pressing concern in our country surrounds the subject of race. In response to a growing need to discuss race within the perspective of faith, we are hosting a virtual formation program specifically created to encourage a diversity of viewpoints and respectful dialogue on race and faith within a Christian community.

Sacred Ground (www.episcopalchurch.org/sacred-ground) is an inspiring and energizing, small group spiritual formation experience developed by respected leaders of the Episcopal church. Over the course of several months, in the context of small groups, participants in Sacred Ground at St. Thomas are invited to walk through chapters of America's history of race and racism, while weaving in threads of family story, spiritual practices, scriptural reflection and hope for change.
ZOOM FAQ
For Sacred Ground at St. Thomas

What is Zoom?
Zoom is a web conferencing service that allows us to meet virtually. It's free for participants to use Zoom to attend meetings* hosted by St. Thomas. Using Zoom requires the use of a device that has access to internet service or a mobile network. *Pro Zoom tip: every event held on Zoom is called a "meeting."
What type of equipment is required to use Zoom?
You can participate in Sacred Ground at St. Thomas via Zoom using an iOS or Apple smartphone or on a computer or tablet if it has a microphone and speaker, and ideally, a camera.
How do I use Zoom to participate in Sacred Ground at St. Thomas?
To attend the Sacred Ground program, a few minutes before 6:30 each week, simply click the Zoom link. This will open Zoom on your device and you can follow the simple instructions to join the "meeting." You'll find the Zoom link for Sacred Ground on the calendar on St. Thomas Connect and in the weekly email sent to registered participants. The meeting link is the same every week. If you can't locate the link or need help using Zoom, contact our Parish Admin, Natalie (contact details below.)
I've never used Zoom before. Do I need to do anything in advance?
Yes. Create a free Zoom account and download the Zoom software before you join a Zoom meeting for the first time. Either click the meeting link and follow the instructions that come up or go directly to www.zoom.us/signup.
I'm finishing dinner, my kids/pets are disruptive, or I'm late. Can I still participate?
Of course! All participants will be automatically muted upon entry to prevent anyone from accidentally disturbing the Sacred Ground program. During all St. Thomas events on Zoom, participants will receive guidance on when to unmute (as well as support with how to unmute) when it is their turn to share in the group. If you don't want to be visible during a Zoom gathering you can press "stop video" on your Zoom app and all other participants will only see your name until you press "start video" again.
User Tips & Recommendations

Click on the Zoom meeting link a few minutes before a scheduled event to make sure the audio and video are working correctly on your device.

When participating in Sacred Ground at St. Thomas, login each week from the same Zoom account as you will be routed to a small group that has been connected to your account.

To help prevent disruptive audio feedback, mute your audio unless it's your turn to speak.

Multiple people joining from one household can participate using one device together or participate individually using separate devices. Near each other, multiple devices logged onto the same Zoom event will occasionally disrupt the video feed or create audio feedback. However, the experience varies widely depending on equipment used and wifi/internet availability. Sacred Ground participants from the same household will be added to separate small groups or the same small group depending on the participant's preference.
FURTHER QUESTIONS?
Contact Natalie, St. Thomas Parish Admin, during office hours: Monday – Thursday between 9:00 am and 4:00 pm.
If you need tech help or questions on how to access Sacred Ground after 4:00 pm on Wednesdays, send an email to .